Lets delve into the Rider Biomechanics of Equestrian sports … There seems to be a growing trend of riders being attached via their helmet or a body part/s, to the saddle via Kinesiotape, Rocktape or McConnell tape. In my professional opinion this needs to stop as it is WRECKING both a riders mechanics & their "feel". These practices are dangerous and NOT the intended purpose of the design or methodology of these tapes. The next question should be, "Is the person employing these techniques adequately trained to do so in the sport of Equestrian"? None of the people that have been brought to my attention have ever been trainers, nor have ever ridden at a professional or elite level. They have never personally felt the force vectors applied to a riders body under the dynamic motion of a horses way of going, nor do they actually know how to ride the movements that you are required and training to ride. If you wanted to learn to race a car would you ask someone for help that has only ever ridden a bicycle!?
I have trained horses and riders for the better part of 30 years, along with been a professional rider at an international level and represented my country on multiple occasions. It is my passion for riding and horses that pushed me into my now profession of Physiotherapy. As a medical professional, a Rider and a Trainer, I am taking a stand to be an advocate for all riders welfare. This comes from a place of passion for our equestrian sport and Manual Physiotherapy along with a commitment to my Riders. I view this as a dedication to my sport and fellow riders to educate and help understand the why.  As Riders we deserve to have the necessary knowledge in order to make informed decisions on our own welfare and longevity in our sport.
Background
Kinesio tape was first developed by Dr. Kenzo Kase who worked as an acupuncturist and chiropractor in the US and Japan. It has two primary objectives:
A training application to prevent injury
To support rehabilitation and recovery in a variety of orthopedic, neuromuscular and neurological conditions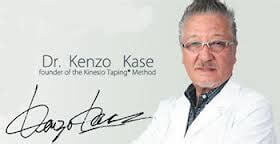 Kinesiotape & Rock tape have the following methods whereby the tape can help assist the body return to normal function through an application of the tape onto the skin. … IT MUST BE APPLIED DIRECTLY ONTO SKIN TO BE EFFECTIVE. IF YOU ARE BEING TAPED OVER CLOTHING IT IS NOT WORKING.
Increase muscle tone/s
Decrease muscle tone/s
Mechanical correction
Fascia correction
Space correction (inflammation, oedema, swelling)
Functional correction (sensory stimulation to assist or limit a motion)
Lymphatic correction
The next important factor is that a taping  applications success is limited by the practitioner's ability to evaluate the rider and is adequately trained in taping applications. In other words, you have to know the anatomy and biomechanics of the patient along with the measures involved in taping to apply the tape in the correct way. Always look for a certified CKTP 🎓
⬇️ READ ON 🧠
Any of the following may be caused from these taping methods where a body part is 'fixed' to a non moving counterpart;
~ Upper Cervical Joint Dysfunctions
~ Craniocervical junction misalignment
~ Alar Ligament dysfunction
~ Joint Inflammation
~ Spinal derangements
~ Cervical interspinous Bursitis
~ Periostial bruising
~ Pelvic Derrangements
~ Postural Dysfunction Syndrome
~ Desensitization of a Riders "feel"
~ Inhibition of Muscle Synergy
~ Inhibition of Joint Synergy
Anatomy of your Upper Cervical region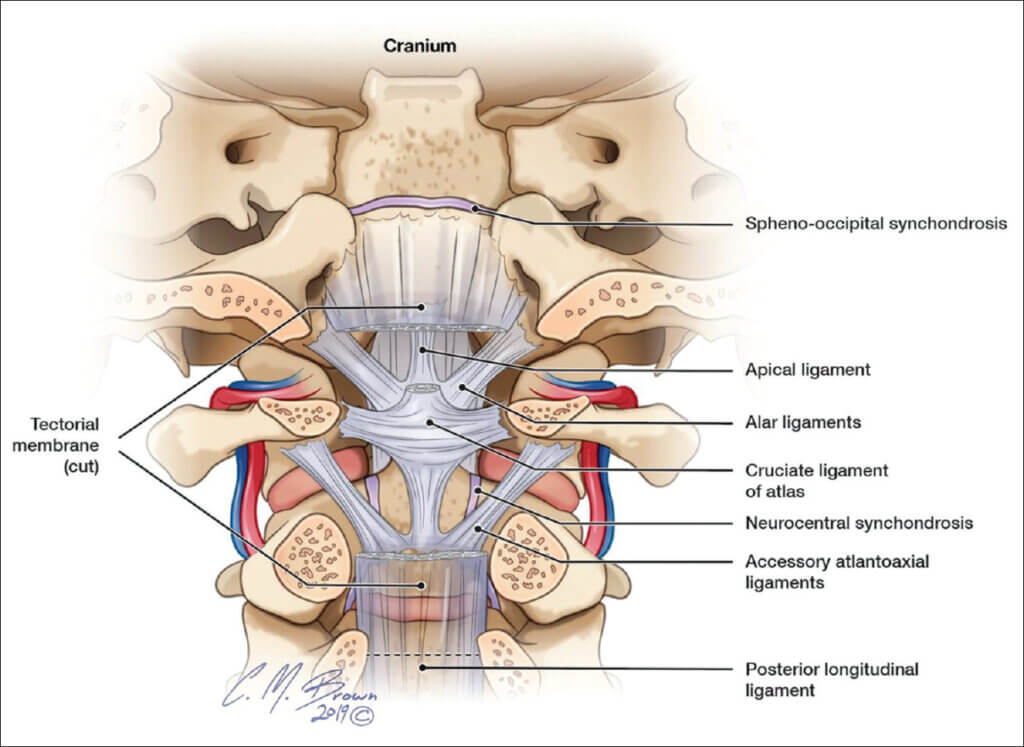 The Pathophysiology of Cervical acceleration /deceleration forces
The Quebec task force (QTF) defines whiplash as bony or soft tissue injuries resulting from "an acceleration-deceleration mechanism of energy transfer to the cervical spine"
These Injuries occur in three stages with a rapid loss of lordosis.  Both the upper and lower spines experience flexion in stage one. In stage two the spine assumes an S-shape while it begins to extend and eventually straighten to make the neck lordotic again. The final phase shows the entire spine in extension creating a sheering force that causes compression of the facet joint capsules.
The Hard fact Evidence
A study analyzing 'CERVICAL VERTEBRAL MOTIONS AND BIOMECHANICAL RESPONSES TO DIRECT LOADING OF HUMAN HEAD' by Ono et al., 2001, showed that in a rearward head force, such as your helmet pulling your head into extension due to it being taped to the cantle of your saddle, strains between the OC, C2/C3 and C3/C4 joints are produced in the expanded direction due to the S-shape deformation. At cervical vertebral levels below C4, compressive strains are found. During axial forces, it is found that a downward axial force acts on the human OC joint when the head is pulled rearward, such as what is happening when you have your head taped backwards onto the cantle of the saddle. These are not normal additional force mechanisms for a rider and will place unnecessary stress upon your facets and ligaments.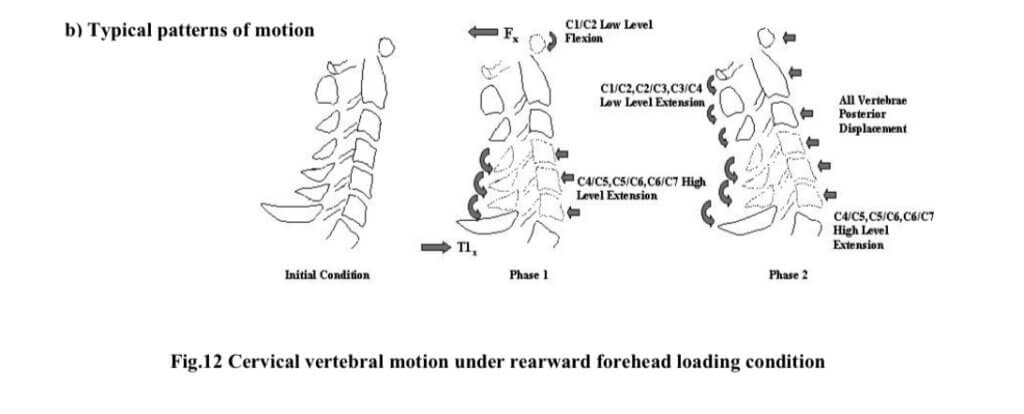 Desensitization of a Riders "feel" via Inhibition of Muscle and/or Joint Synergy 
The next Game changer = It kills our feel! As riders we rely on our ability to "feel" where our bodies are in space, along with absorb the forces produced via our horses dynamic movement patterns. We have discussed the effects of taping the head to the back of the cantle, but another disruption to our PNF Pelvic patterns, which is VITAL to all functional movement is that of taping the pelvis to the back of the cantle! By doing this you are BLOCKING any Anterior Elevation or Anterior Depression of the pelvis. Your horses back will never fully be able to lift upwards due to your pelvic block!. These disruptions to our Osteokinematics, Arthrokinematics or Muscular Synergy inhibit our feel & movement patterns sending the rider along a fast road to both INJURY and POOR RIDING HABITS.
IF YOUR THERAPIST/TRAINER/BODYWORKER IS TRYING TO TAPE YOUR HEAD OR YOU TO YOUR SADDLE RUN AS FAST AS YOU CAN IN THE OTHER DIRECTION. YOU ARE ASKING FOR AN INJURY!!!
🔑 BEWARE: Just because someone tells you that they are a 'Biomechanics Specialist' does NOT mean that they are qualified to adjust or make corrections to your positioning. There is no governing body under the field of 'Biomechanics' so please be your own advocate. Ask Questions & if the responses do not appropriately explain why they are doing what they are doing along with make sense to you … kindly say NO THANK YOU
🎓 Addressed & Written by licensed New Zealand Manual & Sports Physiotherapist + U.S Equestrian HSSM Provider
Britta Pedersen
Equestrian Physiotherapist
RNZPT, MNZPT, CKTP, ESNZ Gold Medal (Dressage), P1E Physical Therapy granted in USA
Tags: Equestrian, Rider Biomechanics, Horseriding, Rider Physiotherapist, Sport